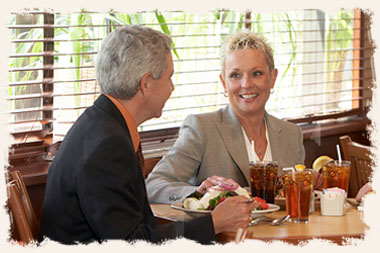 From one-on-one power lunches to departmental retreats, Ponzios can provide the perfect atmosphere and food for your next business function. Already home to several networking groups, Ponzios knows what it takes to help make an event successful for both business and groups. We offer both semi-private and private rooms for breakfast, lunch or dinner, and to help you stay within your budget, one of our event managers will sit down and discuss all your menu options (including both vegetarian and vegan menu options).
While we do not provide audio and visual equipment for events, we do allow their use in our private rooms and we will do our very best to help coordinate your efforts. At this time we do not offer Internet access for events.
All private affairs are assigned individual servers to attend to your function. Beer, wine and liquor are available during our regular bar hours.
A $100 minimum deposit is required for all rooms and is refundable up to 24 hours before an event. For our private rooms there is a 15 person minimum and our maximum attendance tops out at 75 guests.