In 2003, a decision was made to add a new element to Ponzios and to the Cherry Hill area; a newly designed bar area called Zio's! After many months of observation, it became clear that the current bar was mostly used as a waiting area for customers as their tables were being readied. After months of careful planning and discussions, a new concept was established for this part of the restaurant to transform the bar into a destination all its own.
What was once tucked away in the corner of the restaurant has since been completely opened-up, creating a warm welcoming environment to all who enter the restaurant. With its extra-wide bar top, Zio's is perfect for those customers who want to stop in for a drink and order a quick meal (patrons can order from the full menu). And with its strategically placed pub-tables, Zio's is the perfect place for a small romantic meeting or high-powered business lunch.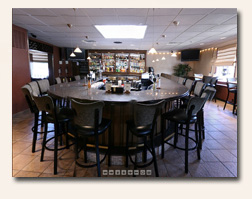 Click on image to view a
virtual tour of our bar!
Four LCD TV's encircle the bar, providing sports enthusiasts a place to catch up on the latest scores, or to come out to support any of the local sports teams, be it the Philadelphia Eagles, Flyers, Phillies or Sixers!
The bar boasts 14 different wines, 13 featured martinis, six handcrafted beers (including Flying Fish Beer), and a full line of cordials and domestic beers.
Zio's serves drinks every day from open to close (except on Sundays, when drinks are not available until 11am)