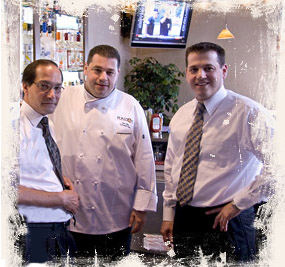 It all began back in the 1960's with Mike and Nick Fifis. Over the years, several family members have taken their turn at heading up the ship, including Nick C. Fifis, John Voltis, Chris N. Fifis and James "Jimmy" Fifis. As the ownership of the restaurant has been passed down from generation to generation, the philosophy has remained the same; Quality food, Prompt Service at Affordable Prices.
In early 2000, John, Nick and Chris Fifis along with John Giambanis, joined Jimmy Fifis as owners of Ponzios Cherry Hill. Seven years later, in 2007, the restaurant lost its longtime owner, Jimmy Fifis, to his battle with cancer. Since then, John, Nick, and John G. have continued as equal owners. These three partners are no strangers to the restaurant business, combined they bring well over 75 years of experience to the table. Each of the partners utilize their own special talents to form a strong management team, ready to continue Ponzio's journey into the 21st Century.

To find out a bit more about the team, click on one of their names below.